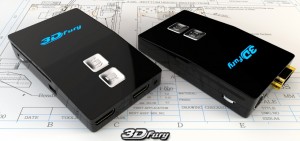 3Dfury is on the track for Worldwide exposure !
Just like its ancestors, 3Dfury achieves the standards and the "till-now" unthinkable !
Taking the best from HDfury3 and adding the unusuals such as: Dual Simultaneous Output in Analog and/or Digital, Double/Triple Frame from 1080p24 material, 3D mode up to 720p144, 2D movie mode up to 1080p72 (triple frame 1080p24), Dual Projector setup, IR Control, USB update and more of what HT hobbysts and Big 3 tubes owners are waiting for to fully enjoy the today HD content.
All combined into an efficient design, and yet easy to use product.
Please enjoy the very first view of 3Dfury, our new milestone in Home Theater entertainment.
Keep in mind, 3Dfury can add 3D playback to any HDTV in the world (either Analog or Digital)